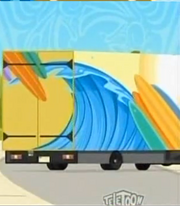 The Vintage Surfboard Tour is a collection of vintage surfboards in a storage van taken all over the world. Every board is famous and priceless. The tour is run by Kai but his father owns the whole operation.
Known Boards
Mark Hoe
Sinowa Beache
Eddie Haiku
Greg "the Bulldog" Smith
Jesse Oki
Duke Hamilton (later destroyed)
Trivia
The Duke Hamilton board was destroyed by a shark in its debut.
The Duke Hamilton board was the most valuable board in the tour.
The Duke Hamilton board is a spoof on the father of modern surfing, Duke Kahanamoku (he had a huge longboard like that one in this episode).
Jesse Oki is Broseph's surfing hero.
This event was originally to have taken place at the Wahlei Grand Hooly Hooly Milton (presumably a hotel in Hawaii) before Lo picked the event up from them to bring to Surfer's Paradise.
Gallery
Community content is available under
CC-BY-SA
unless otherwise noted.